Yokohama spring rebates  $70 Visa® prepaid card!
Northwood garage wants you to know you could get a tire rebate up to $70 on your purchase of Yokohama tires!  Well, it is easy with Yokohama's Spring Getaway! Here's how it works; purchase a set of four eligible Yokohama tires between April 1st – April 30th, 2018 and you can receive a rebate up to $70 on a prepaid Visa card.
Here are the tires that qualify for the rebate:
| | |
| --- | --- |
| $50 VISA REBATE OFFER | $60 VISA REBATE OFFER |
| $70 VISA REBATE OFFER | |
See the Badass Yokohama GEOLANDAR M/T G003™ in action
 This Rebate is for April only
If Yokohama tires are your go to tire, than you'd better not miss out on this rebate.  Rebates are available for Yokohama's great All-season, Touring and their Badass Mud Train tires.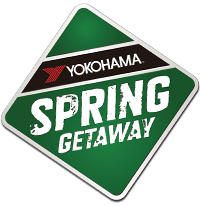 How to redeem your rebate
There are two ways to redeem your rebate: Online or by mail.
Redeem tire rebate by mail
Download the form at the link. Complete it and attach your original receipt and mail it to the address listed on the form. Your claim must be postmarked by May 31, 2018.
Check the status of your Yokohama Visa ® prepaid card
Here's the boring part
Terms and conditions
To receive your $50, $60 or $70 Yokohama Visa® Prepaid card, submit your claim online at yokohamatirerebates.com or mail your purchase invoice along with the completed redemption form to: Yokohama Spring Getaway #YTCSPRING2018 P.O. Box 2100, Wayne, NJ 07474, postmarked by May 31, 2018. Valid for purchases made April 1–April 30, 2018 of a set of four Yokohama GEOLANDAR G055™, GEOLANDAR H/T G056™, GEOLANDAR A/T G015™, GEOLANDAR M/T G003™, ADVAN Sport® A/S, AVID Ascend®, AVID ENVigor®, AVID ENVigor® ZPS, or Tornante™* tires at participating locations or at Yokohama-authorized online dealers. Original Equipment lines not eligible. To check the status of your rebate, please visit www.yokohamatirerebates.com or call (877) 773-7723.
1. Limit 2 Yokohama Visa Prepaid card redemptions per household, customer or email address.
Purchase must be four tires for a single vehicle. The required invoice for a second redemption per household, customer or email address must show purchase of an additional set of 4 tires for a different vehicle than the one referenced in the first redemption.
2. Late submissions will not be accepted.
3. Claims of lost materials will not be honored unless accompanied by proof of receipt of materials by sponsor, such as proof of certified mailing.
4. Sponsor reserves the right, in its sole discretion, to withdraw or amend this offer in any way or to amend these terms and conditions without prior notice or obligation.
5. Offer valid only for legal US residents physically residing in the 50 United States (includes DC).
6. This offer is not valid for commercial, fleet, or employee purchases.
7. This offer is not valid with any other Yokohama offer, except for rebates under the Friends & Family or Partner Perks Programs.
8. Void where prohibited by law.
9. Rebate issued in the form of Yokohama Visa® Prepaid card.
10. The Visa Prepaid card can be used anywhere Visa Debit cards are accepted in the United States and U.S. Territories. The card may not be used at any merchant, including internet and mail or telephone order merchants, outside of the United States and U.S. Territories.
The card is issued by The Bancorp Bank, Member FDIC, pursuant to a license from Visa U.S.A. Inc. Pay close attention to the expiration date printed on the front of the card. You will not have access to the funds after expiration. Prepaid card is subject to further terms, conditions, and limitations. Allow 6 to 8 weeks for delivery.
Full rules and terms can be found at yokohamatire.com/springgetaway
---
Northwood Garage handles over 25 brands of tires for your automotive needs.
We proudly provide expert auto repair and tire service to Northwood, Strafford,  Nottingham, Epsom, Barrington and Deerfield  New Hampshire.
Check on our Better Business Bureau "A Plus" rating
Northwood Garage… Keeping your Car Good to Go! Since 1955